Donate
Did you know that we are on AMAZON SMILE?
  You can do your holiday shopping AND help us at the same time!!
The financial support of our generous donors is critical to our continued efforts. Without your support, the work we do on behalf of the dogs of Pennsylvania would not be possible. Please send donations to:
UAPM
PO Box 7202
Lancaster, PA 17604
You can also donate through PayPal:
United Against Puppy Mills is a federally approved 501(c)3 non-profit organization.
Your Money at Work
United Against Puppy Mills utilizes many forms of advertising to publicly educate and bring about change for dogs, and the cost is high. For example, billboards cost approximately $2,000 per month and posters at train stations and on bus routes cost about $1,000 per month. Print ads range from $250 to $1000 monthly. Brochure printing averages $600 per 5000 and mass-mailing costs run $3,500 per 10,000 households. Costs to set up a booth at Pet Expos and other events across Pennsylvania range from $50 to $300 each.
YOUR DONATIONS AND PURCHASES AT WORK:
BILLBOARDS
One of the ways that we use to increase awareness is through billboard advertising. Most Americans don't know about puppy mills, so education is critical to ending the supply and demand.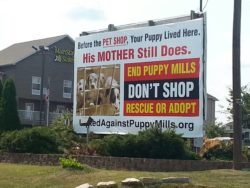 Donate Goods and Services
We are always in need of  printing services, office space, and office equipment.  Please contact us to discuss your possible donation!