Donate
AMAZON SMILE-Already shop at Amazon? Register for United Against Puppy Mills at http://smile.amazon.com/  It is free to sign up and a portion of your eligible purchases will be donated to UAPM.
IGIVE-Shop from over 2,000 online stores at iGive and select UAPM as your cause to support. This is a free and easy service and each store has a published donation percentage they will donate to your favorite charity-UAPM!  These donations add up quickly because so many of us shop online.  Check it out!
The financial support of our generous donors is critical to our continued efforts. Without your support, the work we do on behalf of the dogs of Pennsylvania would not be possible. Please send donations to:
UAPM
PO Box 7202
Lancaster, PA 17604
You can also donate through PayPal:
United Against Puppy Mills is a federally approved 501(c)3 non-profit organization.
Your Money at Work
United Against Puppy Mills utilizes many forms of advertising to publicly educate and bring about change for dogs, and the cost is high. For example, billboards cost approximately $1,300-$7,000 per month and posters at train stations and on bus routes cost about $1,000 per month.  Costs to set up a booth at Pet Expos and other events across Pennsylvania range from $50 to $300 each.
YOUR DONATIONS AND PURCHASES AT WORK:
BILLBOARDS
One of the ways that we use to increase awareness is through billboard advertising. Most Americans don't know about puppy mills, so education is critical to ending the supply and demand.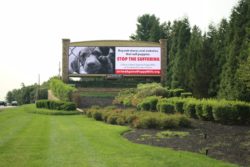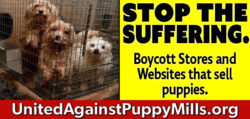 Donate Goods and Services
We are always in need of design and printing services.  Please contact us to discuss your possible donation!