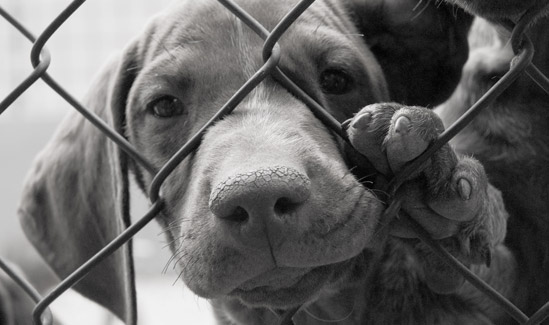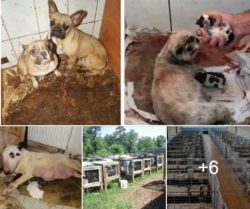 ---
Pennsylvania has 12 of the 100 puppy mills on the Humane Society of the United States Horrible Hundred List. Seven of those are in Lancaster County.
Click here to find some of the worst offenders in Pennsylvania and other states.
---
YOUR DONATIONS AND PURCHASES AT WORK:
BILLBOARDS
One of the ways that we use to increase awareness is through billboard advertising. Most Americans don't know about puppy mills, so education is critical to ending the supply and demand.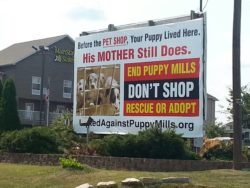 EVENTS
Over the past year, our volunteers attended public venues to promote awareness, attended municipal zoning meetings pertaining to establishing or expanding kennels, and spent time researching, fundraising and much more. We had a feature article in Lancaster County Pets magazine and one of our volunteers participated in a public radio show to discuss puppy mills.
Listed below are events we attended in 2017:
April – Pet Fest at Clipper Stadium, Lancaster
May – Debella Dog Walk in Green Lane, PA
June – Roslyn Pet Fair in Roslyn, PA
July – Pride Festival of Central PA, Harrisburg
August – Mt. Gretna Outdoor Summer Craft Market, Lebanon
September – Pottstown Pet Fair
A Day of Help and Hope for Mill Dogs, Lancaster
Paws in the Park, Lititz
October – WIOV/Turkey Hill Fall Music Fest, Lancaster
It's a Pet's Life Festival, Lititz
Sproutfest in  King of Prussia, PA
Working together to break the chain of cruelty
United Against Puppy Mills promotes awareness and provides help to people interested in affecting positive action for the elimination of puppy mills as they currently exist.
Looking for a great read?  Or maybe a great holiday gift? United Against Puppy Mills is part of a new book, Magical Dogs 2: Connecting the Dots, Connecting the Dogs. The author, Patti Kerr, is donating a portion of every book purchased directly from her back to rescue/organizations. Simply go to www.magical-dogs.com. Once you place your order, the author will contact you via email to ask you which organization referred you. Tell her UAPM and we get the donation!
Magical Dogs – Love and Lessons from our Canine Companions
Pre-Sales…and Why You Won't Find my Book on Amazon Posted on June 25, 2018 by magicaldogs — Leave a reply To those asking if they can pre-order Magical Dogs 2: Connecting the Dots, Connecting the Dogs on Amazon, my answer is: You can absolutely pre-order a copy – but not on Amazon. At least, not yet.